Writing an application: Prayer for full free studentship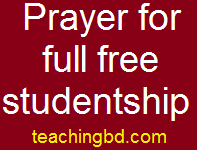 14 September 2015
The Principal,
X College, Dhaka
Dhaka-1206
Subject: Application for full free studentship
Sir,
With due honor and humble submission. I would like to state that I am a student of class eight of your school. My father who was a government servant retired last year. We were living in government quarters. But after my father's retirement, we had to vacate the govt' Quarters. Now we are living in a rental house which is very expensive. With the decline of income and rise in expenses, my father finds it very difficult to afford my educational expenses. It may be mentioned that my result in the last annual examination was satisfactory. I came out third among the successful candidates, obtaining 80% marks.
I, therefore, hope and pray that you would be kind enough to grant me a full free studentship so that I can continue my studies without any difficulty.
Your obedient pupil,
Y
Class: Z
Sec: A
Roll: 04

teachingbd24.com is such a website where you would get all kinds of necessary information regarding educational notes, suggestions and questions' patterns of school, college and madrasahs. Particularly you will get here special notes of physics that will be immensely useful to both students and teachers. The builder of the website is Mr. Md. Shah Jamal Who has been serving for 30 years as an Asst. Professor of BAF Shaheen College. He expects that this website will meet up all the needs of Bengali version learners /students. He has requested concerned both students and teachers to spread this website home and abroad.