Write an application: Prayer for repairing a bridge
Write an application: Prayer for repairing a bridge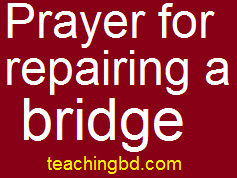 14 September 2015
The Chairman,
"X" Union Parishad
Bhaluka, Mymensingh
Subject: Prayer for repairing a bridge
Sir,
We, the inhabitants of "Y" village under your union are suffering a lot because the only bridge over the canal of our village has been greatly damaged due to a recent flood. Students and people of the locality have been suffering greatly for this reason. There is a great possibility of the collapse of the bridge at any time that may cause much danger and suffering to the people around. So the repair of the bridge is urgently required.
We, therefore, pray and hope that you would be kind enough to take steps to repair the bridge very soon.
Yours faithfully,
The villagers of
"Y" village

teachingbd24.com is such a website where you would get all kinds of necessary information regarding educational notes, suggestions and questions' patterns of school, college and madrasahs. Particularly you will get here special notes of physics that will be immensely useful to both students and teachers. The builder of the website is Mr. Md. Shah Jamal Who has been serving for 30 years as an Asst. Professor of BAF Shaheen College. He expects that this website will meet up all the needs of Bengali version learners /students. He has requested concerned both students and teachers to spread this website home and abroad.