Finance and Banking Suggestion and Question Patterns of SSC Examination 2016. Main ideology of bank is the relationship and belief between the Bank and Client. If any step of each party is against this belief and trust then relationship between them will be disrupted which will cause the business to be dissolved.
Person, institution, company involves in banking business is called "Banker". Such a way client means that person who is involved with the bank through his account or any of the service of the bank. On the basis of the functions and services provided by the bank to its clients Bank — Client relationship can be considered as:
Finance and Banking Suggestion and Question Patterns of SSC Examination 2016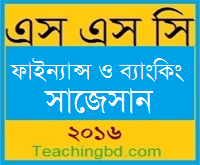 All Board Finance and Banking Model Question of SSC Examination 2015
Model Question No. 2
Model Question No. 3
Model Question No. 4
When client deposit money in the bank then bank is a debtor and oppositely other party is creditor. Thus this relationship grows through depositing money by the client.
This relationship establishes through opening a bank account by the client. This relationship creates right and responsibilities for both the parties. Under this contract bank remain liable to return back the client's deposited money.
Most of the time banks give protection to the client's valuables, documents etc. through providing the locker services .This relationship can be considered as legal relationship.
teachingbd24.com is such a website where you would get all kinds of necessary information regarding educational notes, suggestions and questions' patterns of school, college and madrasahs. Particularly you will get here special notes of physics that will be immensely useful to both students and teachers. The builder of the website is Mr. Md. Shah Jamal Who has been serving for 30 years as an asst. Professor of BAF Shaheen College. He expects that this website will meet up all the needs of Bengali version learners /students. He has requested concerned both students and teachers to spread this website home and abroad.