SSC MCQ Question Ans. The Rivers of Bangladesh and the Natural Resources
SSC MCQ Question Ans. The Rivers of Bangladesh and Natural Resources. Bangladesh is a land of rivers. Rivers make the lives active in Bangladesh. Numerous rivers flow down the North of the Himalayas and the hilly regions of India through Bangladesh. These rivers move crisscrossing the country. Many of the rivers are so long and wide. Some are narrow. Many rivers are now non-existent and wiped off the map, and some of the rivers are on the verge of death. At present, Bangladesh has a total of 700 rivers and rivulets. The total length of these rivers is 22,155 km. These rivers are our main resources. Besides, we have some land, soil, forest, agriculture and mineral resources including some other natural resources. The existence of Bangladesh largely depends on the accomeulation, use, and preservation of these resources. In this chapter, we will learn about our rivers and the natural resources of our country and will try to preserve this wealth.
SSC MCQ Question Ans. The Rivers of Bangladesh and the Natural Resources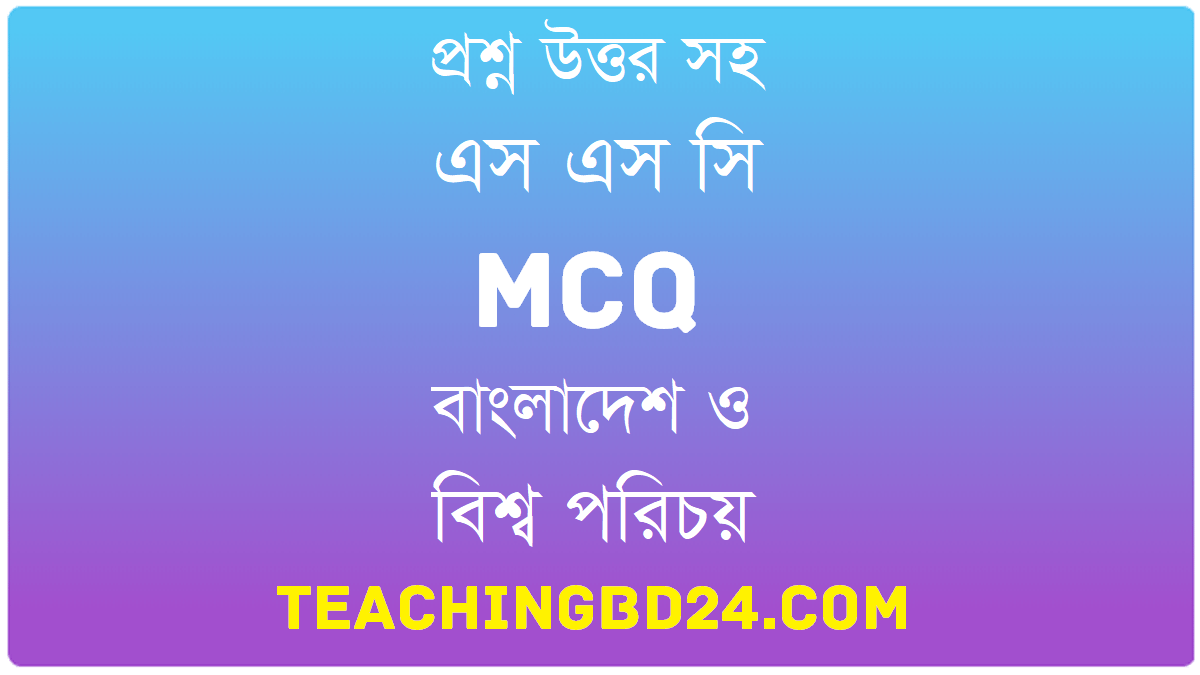 A single river has two different names. In India and in the North Bengal of India, it is familiar with the people as the Ganges, and in Bangladesh, it is known as the Padma. It has its source in the Gangotri Glacier of the middle of the Himalayas. Flowing through several states of North India, the Ganges entered the district of Rajshahi of Bangladesh. The main flow of Brahmaputra has connected with the river Jamuna near Goalanda.
It has united with the Meghna at Chandpur assuming the name the Padma which has fallen into the Bay of Bengal flowing through Barisal and Noakhali. This is one of the largest rivers of Bangladesh, and the total area adjacent to the Ganges-Padma is 34,188 square kilometer. Of the numerous branches of rivers flowing from the East to the West, the mentionable are the Bhagirathi, the Hugli, the Mathabhanga, the Isamoti, the Bhoirab, the Kumar, the Kapataksah, the Naboganga, the Chitra, the Mothumati, the Arial Kha, etc.
teachingbd24.com is such a website where you would get all kinds of necessary information regarding educational notes, suggestions and questions' patterns of school, college, and madrasahs. Particularly you will get here special notes of physics that will be immensely useful to both students and teachers. The builder of the website is Mr. Md. Shah Jamal Who has been serving for 30 years as an Asst. Professor of BAF Shaheen College. He expects that this website will meet up all the needs of Bengali version learners /students. He has requested concerned both students and teachers to spread this website home and abroad.