SSC MCQ Question Ans. Structure of Matter
SSC MCQ Question Ans. Structure of Matter. SSC MCQ Question Ans. The structure of Matter. Every matter of the universe is made of small particles. They are so small that they are not even visible with the high-efficiency microscope. The name of smallest particle of the fundamental element is called atom and the smallest particle of compounds are called molecule. Every atom has its own characteristics. A principal characteristic is its atomic number. Atom and molecule have actual and relative mass. Proton, electron, and neutron are the principal particles of the atom.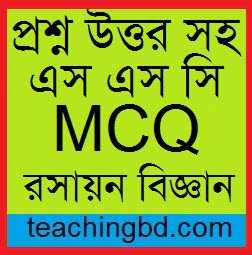 Nucleus, at the center of the atom, is composed of proton and neutron which bears the total mass of the atom. Electrons of the same number of proton move around the nucleus on various axis. The same elements again have atoms with different atomic mass which are called isotopes. They have multifarious uses in various fields of human life.
teachingbd24.com is such a website where you would get all kinds of necessary information regarding educational notes, suggestions and questions' patterns of school, college, and madrasahs. Particularly you will get here special notes of physics that will be immensely useful to both students and teachers. The builder of the website is Mr. Md. Shah Jamal Who has been serving for 30 years as an Asst. Professor of BAF Shaheen College. He expects that this website will meet up all the needs of Bengali version learners /students. He has requested concerned both students and teachers to spread this website home and abroad.