SSC MCQ Question Ans. Periodic Table
SSC MCQ Question Ans. Periodic Table. Periodic Table is a conceptual diagram of the properties of the elements expressed in the table.  Total  118 elements are detected up to the year 2012.  It is not possible to remember all the properties of each element separately. In Periodic, Table elements are classified on the basis of their properties. From the periodic table, we can assume the chemical behavior of an element.  Starting with the invention of the periodic table,  its applications and significance are discussed in this chapter.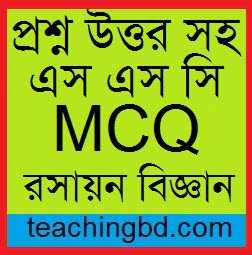 Periodic Table is the outstanding reflection of collections of different chemical concepts gathered over hundreds of years.  From the beginning, scientists made attempts to give a combined shape of the concepts about elements and their properties gathered in a scattered way. This, later on, helps classify the elements on the basis of their properties, that is, lead to the introduction of the modern periodic table.
teachingbd24.com is such a website where you would get all kinds of necessary information regarding educational notes, suggestions and questions' patterns of school, college, and madrasahs. Particularly you will get here special notes of physics that will be immensely useful to both students and teachers. The builder of the website is Mr. Md. Shah Jamal Who has been serving for 30 years as an Asst. Professor of BAF Shaheen College. He expects that this website will meet up all the needs of Bengali version learners /students. He has requested concerned both students and teachers to spread this website home and abroad.