SSC MCQ Question Ans. Chemistry and Energy
SSC MCQ Question Ans. Chemistry and Energy. In fact, a chemical bond is a store of energy. Energy is associated with formation and breaking of chemical bonds. As the number of changing in chemical bond happened in the world, in all cases transformation of energy happened. We perform us every day works using the energy of the changes which occur spontaneously. The amount of this energy is finite in the world and is decreasing day the by day. So it is necessary to think about the alternative source of energy. In the meantime, the attempt is gone on to increase the number of lighting, making solar panels, using the power of the sun. On the other hand, an effort has been started to make use of nuclear power in our country like developed countries.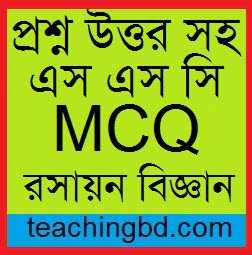 We have known that elements in a molecule joined together by mutual energy between them. The energy by which the elements are joined together is chemical bonds. Besides this molecules or ions of a compound comes closer by an energy named intermolecular force composed of various  energy and create a particular state as solid, liquid and gaseous. The intermolecular force of ions or molecules of any solute, if high forms solid, if low forms liquid and if lower forms gaseous states. That is intermolecular force differs at different states of the same compound.
teachingbd24.com is such a website where you would get all kinds of necessary information regarding educational notes, suggestions and questions' patterns of school, college, and madrasahs. Particularly you will get here special notes of physics that will be immensely useful to both students and teachers. The builder of the website is Mr. Md. Shah Jamal Who has been serving for 30 years as an Assistant Professor of BAF Shaheen College. He expects that this website will meet up all the needs of Bengali version learners /students. He has requested concerned both students and teachers to spread this website home and abroad.