SSC MCQ Question Ans. Acid-Base Balance
SSC MCQ Question Ans. Acid-Base Balance. Lead is extracted from the acidic residue of rejected batteries of vehicles /IPS/ solar panel in 50 furnaces on the beach of river Jamuna at Bera upozila of Pabna district. People are extremely annoyed at the toxic smoke and bad odor from the furnaces. Crops are not growing in the lands near the furnaces. Cattles are dying by eating grass. Poor labourers bring out the toxic materials by breaking batteries with bare hands. Their hands are infected.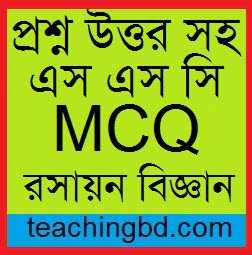 There are lead (Pb,) lead oxide (PbO2) and dilute sulphuric acid (H2SO4) in the two chambers inside the plastic cover of the battery. When heat is applied to the residue and the ash of the battery sulfuric acid decomposes and produces sulfur trioxide (SO3) and sulfur dioxide (SO2). Mixing of these two gases creates dense foggy like situation.
teachingbd24.com is such a website where you would get all kinds of necessary information regarding educational notes, suggestions and questions' patterns of school, college, and madrasahs. Particularly you will get here special notes of physics that will be immensely useful to both students and teachers. The builder of the website is Mr. Md. Shah Jamal Who has been serving for 33 years as an Asst. Professor of BAF Shaheen College. He expects that this website will meet up all the needs of Bengali version learners /students. He has requested concerned both students and teachers to spread this website home and abroad.