SSC Chemistry notes 12th Chapter Chemistry in our life
SSC Chemistry notes 12th Chapter Chemistry in our life. Mango is a very popular fruit in Bangladesh. People are afraid of eating fruit because calcium carbide is used to ripen them or preservatives are used. People think there is formalin in fishes, where will they go? The elements used to ripen fruits and as preservatives are chemical substances.   All the chemicals used in our everyday requirement are not harmful. Every day we get up from bed with chemistry and go to bed finishing chemistry. Our foods, cosmetics, fertilizers-pesticides used to produce foods, cleaning materials etc. all are chemical substances.
SSC Chemistry notes 12th Chapter Chemistry in our life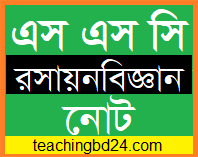 Coal, oil, and natural gas are an example of fossil fuel. In the pre, historical period plants and marshland animals were concealed under the clay due to the natural disaster. Clay layer prevents the decay of the dead plants and corpse. Due to the geological and climate change, the dead bodies of the plants and animals are trapped between two imporous rock stone layer under the marshland and sand layer.
teachingbd24.com is such a website where you will get all kinds of necessary information regarding educational notes, suggestions and question patterns of schools, colleges, and madrasas. Particularly, you will get here special notes of physics that will be immensely useful to both students and teachers. The builder of the website is Mr. Md. Shah Jamal who has been serving for 33 years as an Assistant Professor of Physics at BAF Shaheen College Dhaka. He expects that this website will meet up all the needs of Bengali version learners /students. He has requested concerned students and teachers to spread this website home and abroad.