Science Suggestion and Question Patterns of SSC Examination 2017. Science (from Latin scientia, meaning "knowledge") is a systematic enterprise that builds and organizes knowledge in the form of testable explanations and predictions about the universe. In an older and closely related meaning, "science" also refers to a body of knowledge itself, of the type that can be rationally explained and reliably applied. A practitioner of science is known as a scientist.
Science Suggestion and Question Patterns of SSC Examination 2017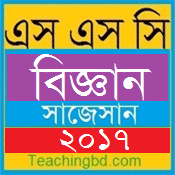 All Board Science Model Question
Model Question No. 11
Model Question No. 12
Model Question No. 13
Since classical antiquity, science as a type of knowledge has been closely linked to philosophy. In the early modern period the words "science" and "philosophy of nature" were sometimes used interchangeably. By the 17th century, natural philosophy (which is today called "natural science") was considered a separate branch of philosophy.
In modern usage, "science" most often refers to a way of pursuing knowledge, not only the knowledge itself. It is also often restricted to those branches of study that seek to explain the phenomena of the material universe.
teachingbd24.com is such a website where you would get all kinds of necessary information regarding educational notes, suggestions and questions' patterns of school, college and madrasahs. Particularly you will get here special notes of physics that will be immensely useful to both students and teachers. The builder of the website is Mr. Md. Shah Jamal Who has been serving for 30 years as an Asst. Professor of BAF Shaheen College. He expects that this website will meet up all the needs of Bengali version learners /students. He has requested concerned both students and teachers to spread this website home and abroad.