Prayer for setting up an English language club
Prayer for setting up an English language club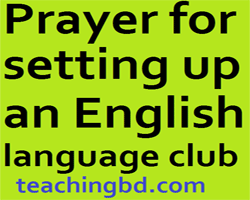 07 March 2015
The Headteacher
Jamalpur High School
Jamalpur
Subject: Prayer for setting up an English language club.
Sir
We are the students of your school. We are learning The English  language in our classes in the communicative method. This method is helpful for acquiring four skills of language – writing, reading, listening and speaking. We are aware of the necessity of learning English and so we want to develop those four skills. But we have a very little Scope for acquiring the speaking skill in the classroom. For this, we need a separate hour as well as the environment. A language club is the best solution to this. Our English teacher Mr Kamruzzaman has consented to guide us in the club.
We, therefore, hope that you would kindly allow us to establish an English language club in the school premises to develop our spoken as well as other skills of English language and oblige thereby.
Yours obediently
Kaiser Hossain
Roll no 1, Class-10
On behalf of the students of
Jamalpur High School

teachingbd24.com is such a website where you would get all kinds of necessary information regarding educational notes, suggestions and questions' patterns of school, college and madrasahs. Particularly you will get here special notes of physics that will be immensely useful to both students and teachers. The builder of the website is Mr. Md. Shah Jamal Who has been serving for 30 years as an Asst. Professor of BAF Shaheen College. He expects that this website will meet up all the needs of Bengali version learners /students. He has requested concerned both students and teachers to spread this website home and abroad.