Application for a seat in the school hostel
Application for a seat in the school hostel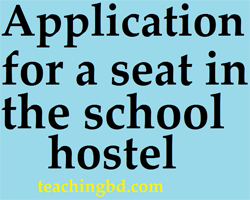 06 March 2015
The Headteacher
Govt Pilot High School
Faridpur
Subject: Application for a seat in the school hostel
Sir
My father is a government officer and he has recently been transferred to Dhaka. Our family is also going with him. But I want to continue my study in your school till my SSC Examinations. Now, my problem is that I have no place to live in Faridpur. So, I am badly in need of a seat in the school hostel. If I do not get a seat, I have to leave your school with a broken heart.
Therefore, I hope that you would kindly give me a seat in the school hostel till my SSC Examinations is over and oblige thereby.
Your most obedient student
Anik Ahmed
Roll No. 3, Class-9
Jamalpur High School

teachingbd24.com is such a website where you would get all kinds of necessary information regarding educational notes, suggestions and questions' patterns of school, college, and madrasahs. Particularly you will get here special notes of physics that will be immensely useful to both students and teachers. The builder of the website is Mr. Md. Shah Jamal Who has been serving for 30 years as an Asst. Professor of BAF Shaheen College. He expects that this website will meet up all the needs of Bengali version learners /students. He has requested concerned both students and teachers to spread this website home and abroad.