SSC MCQ Question Ans. Concept of Mole and Chemical calculations
SSC MCQ Question Ans. The concept of Mole and Chemical Calculations. In performing a chemical reaction, it is indeed necessary for a chemist to determine what amount of substance is to use as the reactant and what amount of product and byproduct and unwanted substances are produced. Particularly, in chemical industries, this calculation is a must for economic considerations.  This is why the number of molecules and the number of atoms and ions in a molecule of reactant and product of a chemical reaction are to be calculated.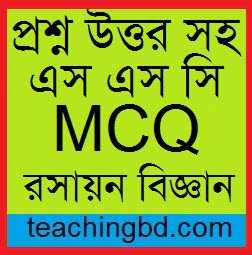 Molecules, ions, and atoms are so small particles that, they cannot be calculated as pairs, fours, dozens, hundreds, thousands even not in core. Chemists use a large number to count molecules, ions, and atoms. The value of this number is 6.02 × 1023. According to the name of Italian scientist Amedeo Avogadro, this number is called the Avogadro number or Avogadro The amount of a substance containing 6.02 × 1023 number of molecules, ions and atoms are called mole. In chemistry, calculation of molecule, atom, ion, reactant, and product is known as Stoichiometry.
teachingbd24.com is such a website where you would get all kinds of necessary information regarding educational notes, suggestions and questions' patterns of school, college, and madrasahs. Particularly you will get here special notes of physics that will be immensely useful to both students and teachers. The builder of the website is Mr. Md. Shah Jamal Who has been serving for 30 years as an Asst. Professor of BAF Shaheen College. He expects that this website will meet up all the needs of Bengali version learners /students. He has requested concerned both students and teachers to spread this website home and abroad.