SSC Civics and Citizenship MCQ Question 2019
SSC Civics and Citizenship MCQ Question 2019. Civics is called the science of citizenship because all matters relating to citizenship are  discussed  in  Civics.  As  a  citizen  of  the  state,  we  all  need  to  have  a  clear conception about Civics. In this chapter, different aspects of Civics and Citizenship such  as  family,  society,  State,  the  origin  of  the  state  and  government  have  been discussed.
SSC Civics and Citizenship MCQ Question With Answer 2019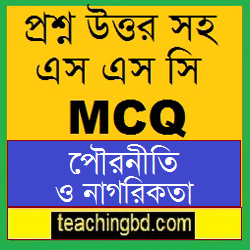 SSC Civics and Citizenshsip MCQ Question With Answer:
Civics is an English word. It derives from two Latin words: Civics and Civitas. The word Civics means citizen and Civitas mean city-state. In the ancient Greece, citizen and city-state  were inseparable. At that time city-state  comprised of small regions. Those who had directly participated in state functions, they were called citizens. As only the male had enjoyed the privilege of participation, they, therefore, were called as real citizens. Slaves, women, and foreigners had no privilege of enjoying citizenship. The subject-matters of Civics have included all these citizens' behavior and functions.
teachingbd24.com is such a website where you would get all kinds of necessary information regarding educational notes, suggestions and questions' patterns of school, college and madrasahs. Particularly you will get here special notes of physics that will be immensely useful to both students and teachers. The builder of the website is Mr Md. Shah Jamal Who has been serving for 30 years as an Asst. Professor of BAF Shaheen College Dhaka. He expects that this website will meet up all the needs of Bengali version learners /students. He has requested concerned both students and teachers to spread this website home and abroad.