SSC Chemistry notes 7th Chapter Chemical Reaction
SSC Chemistry notes 7th Chapter Chemical Reaction. The elements present in nature are changing gradually.  There are different kinds of changes. Some of the changes are physical and some are chemical. Every change has some effects. Particularly chemical changes have both good and bad effects. So it is mandatory to have proper knowledge about the effects of chemical changes. By studying this chapter, we will be able to know about different types of changes and their effects.
SSC Chemistry notes 7th Chapter Chemical Reaction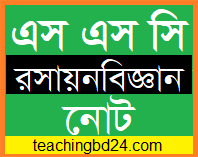 The substances existing in nature undergo changes due to the external heat, pressure, and contact with other substances. A chemical substance is composed of one or more than one element. Pure substances have a certain percent of the composition of its elements. Sometimes, changes occur only in physical conditions of substances leaving their percentage composition unchanged. For example, if we place a piece of ice in the open air it will convert to liquid by absorbing heat from the surrounding and if we heat the liquid water at 1000C, water vapor will produce.
teachingbd24.com is such a website where you will get all kinds of necessary information regarding educational notes, suggestions and question patterns of schools, colleges, and madrasas. Particularly, you will get here special notes of physics that will be immensely useful to both students and teachers. The builder of the website is Mr. Md. Shah Jamal who has been serving for 33 years as an Assistant Professor of Physics at BAF Shaheen College Dhaka. He expects that this website will meet up all the needs of Bengali version learners /students. He has requested concerned students and teachers to spread this website home and abroad.