HSC Production Management and Marketing 2nd Paper 9th Chapter Note Personal Selling & Salesmanship. Sales management, salesmanship, and personal selling are interrelated terms and yet are different literally. The common thread amongst them is that they attempt to satisfy customers. The interrelationship between these terms is that the sales manager manages the personal sales force and the sales force applies the art of salesmanship to sell the products or services to the customers.  The thin line of difference among these three terms is that sales management is the act of managing the activities of sales force; whereas the salesmanship is the act of applying the techniques of selling to sell the products or services and personal selling establishes a one to one personal contact with the customers to sell the product and deliver satisfaction.
HSC Production Management and Marketing 2nd Paper 9th Chapter Note Personal Selling & Salesmanship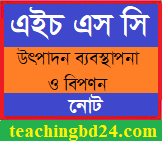 Generally, a large company has individual departments to manage a particular task like a production department manages production processes, finance department organizes and controls financial operations. Similarly, after recognizing the need for management of sales activity individually, companies now have started having a separate sales department named as sales manager for planning, organizing and controlling sales activity. Sale management is responsible for the sale of a product of a company and to add profits to the business operation.
teachingbd24.com is such a website where you will get all kinds of necessary information regarding educational notes, suggestions and question patterns of schools, colleges, and madrasas. Particularly, you will get here special notes of physics that will be immensely useful to both students and teachers. The builder of the website is Mr. Md. Shah Jamal who has been serving for 32 years as an Assistant Professor of Physics at BAF Shaheen College Dhaka. He expects that this website will meet up all the needs of Bengali version learners /students. He has requested concerned students and teachers to spread this website home and abroad.