HSC Production Management and Marketing 1st Paper 9th Chapter Note Business Location. However, although it is a well-worn cliché – it still has some merit. It was reputedly first said by the former boss of Marks and Spencer (Lord Sieff) to describe the main success factors in his business. And certainly in retailing, if you get the location wrong, it can have a serious and often disastrous effect on the business. For businesses in some sectors, location really is critically important. For others, it is a relatively minor decision. The key is to consider the main issues faced by a business choosing a business location and to address the most appropriate way of making a choice.
HSC Production Management and Marketing 1st Paper 9th Chapter Note Business Location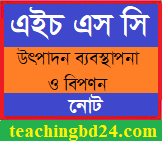 Location decisions are usually pretty important – to both large and small businesses. The location decision has a direct effect on an operation's costs as well as its ability to serve customers (and therefore its revenues). Also, location decisions, once made, are difficult and costly to undo. The costs of moving an operation are often significant and run the risk of inconveniencing customers and staff. It is always best to get the location decision right the first time.
teachingbd24.com is such a website where you will get all kinds of necessary information regarding educational notes, suggestions and question patterns of schools, colleges, and madrasas. Particularly, you will get here special notes of physics that will be immensely useful to both students and teachers. The builder of the website is Mr. Md. Shah Jamal who has been serving for 32 years as an Assistant Professor of Physics at BAF Shaheen College Dhaka. He expects that this website will meet up all the needs of Bengali version learners /students. He has requested concerned students and teachers to spread this website home and abroad.