HSC Chemistry 2nd Paper Note 2nd Chapter Organic Chemistry
HSC Chemistry 2nd Paper Note 2nd Chapter Organic Chemistry. Organic chemistry is a chemistry subdiscipline involving the scientific study of the structure, properties, and reactions of organic compounds and organic materials, i.e., matter in its various forms that contain carbon atoms. Study of structure includes many physical and chemical methods to determine the chemical composition and the chemical constitution of organic compounds and materials.
Study of properties includes both physical properties and chemical properties, and uses similar methods as well as methods to evaluate chemical reactivity, with the aim to understand the behavior of the organic matter in its pure form (when possible), but also in solutions, mixtures, and fabricated forms. The study of organic reactions includes probing their scope through use in the preparation of target compounds (e.g., natural products, drugs, polymers, etc.) by chemical synthesis, as well as the focused study of the reactivities of individual organic molecules, both in the laboratory and via theoretical (in silico) study.
HSC Chemistry 2nd Paper Note 2nd Chapter Organic Chemistry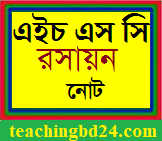 Before the nineteenth century, chemists generally believed that compounds obtained from living organisms were endowed with a vital force that distinguished them from inorganic compounds. According to the concept of vitalism (vital force theory), organic matter was endowed with a "vital force". During the first half of the nineteenth century, some of the first systematic studies of organic compounds were reported. Around 1816 Michel Chevreul started a study of soaps made from various fats and alkalis. He separated the different acids that, in combination with the alkali, produced the soap.
Since these were all individual compounds, he demonstrated that it was possible to make a chemical change in various fats (which traditionally come from organic sources), producing new compounds, without "vital force". In 1828 Friedrich Wöhler produced the organic chemical urea (carbamide), a constituent of urine, from inorganic starting materials (the salts potassium cyanate and ammonium sulfate), in what is now called the Wöhler synthesis. Although Wöhler himself was cautious about claiming he had disproved vitalism, this was the first time a substance thought to be organic was synthesized in the laboratory without biological (organic) starting materials. The event is now generally accepted as indeed disproving the doctrine of vitalism
teachingbd24.com is such a website where you would get all kinds of necessary information regarding educational notes, suggestions and questions' patterns of school, college, and madrasahs. Particularly you will get here special notes of physics that will be immensely useful to both students and teachers. The builder of the website is Mr. Md. Shah Jamal Who has been serving for 30 years as an Asst. Professor of BAF Shaheen College Dhaka. He expects that this website will meet up all the needs of Bengali version learners /students. He has requested both concerned students and teachers to spread this website home and abroad.