HSC Business Organization & Management 1st Paper Note 4th chapter Partnership Business
HSC Business Organization & Management 1st Paper Note 4th chapter
Partnership Business. A business partnership is a specific kind of legal relationship formed by the agreement between two or more individuals to carry on a business as co-owners.  A partnership is a business with multiple owners, each of whom has invested in the business. Some partnerships include individuals who work in the business, while other partnerships may include partners who have limited participation and also limited liability for the debts and lawsuits against the business.
HSC Business Organization & Management 1st Paper Note 4th chapter Partnership Business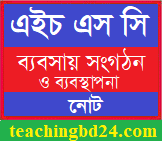 A partnership, as different from a corporation, is not a separate entity from the individual owners. The partnership income tax is paid by the partnership, but the profits and losses are divided among the partners, and paid by the partners, based on their agreement. A partnership, like a sole proprietorship, is a pass-through business, meaning that the profits and losses of the business pass through to the owners.
teachingbd24.com is such a website where you will get all kinds of necessary information regarding educational notes, suggestions and question patterns of schools, colleges, and madrasas. Particularly, you will get here special notes of physics that will be immensely useful to both students and teachers. The builder of the website is Mr. Md. Shah Jamal who has been serving for 32 years as an Assistant Professor of Physics at BAF Shaheen College Dhaka. He expects that this website will meet up all the needs of Bengali version learners /students. He has requested concerned students and teachers to spread this website home and abroad.