HSC Biology 2nd Paper Note 12th Chapter Animal behavior
HSC Biology 2nd Paper Note 12th Chapter Animal behavior. Why do praying mantises display a unique mating system, called sexual cannibalism, where a member of a male-female pair kills and consumes the other during courtship or copulation? At the end of every summer, why do more than 100 million monarch butterflies sweep across North America to overwinter further south in California and Mexico? Animal behavior is the study of these and other questions about why animals behave the way they do.
HSC Biology 2nd Paper Note 12th Chapter Animal behavior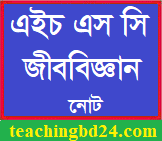 The study of animal behavior begins with understanding how an animal's physiology and anatomy are integrated with its behavior. Both external and internal stimuli prompt behaviors — external information (e.g., threats from other animals, sounds, smells) or weather and internal information (e.g., hunger, fear). Understanding how genes and the environment come together to shape animal behavior is also an important underpinning of the field. Genes capture the evolutionary responses of prior populations to selection on behavior. Environmental flexibility gives animals the opportunity to adjust to changes during their own lifetime.
teachingbd24.com is such a website where you will get all kinds of necessary information regarding educational notes, suggestions and question patterns of schools, colleges, and madrasas. Particularly, you will get here special notes of physics that will be immensely useful to both students and teachers. The builder of the website is Mr. Md. Shah Jamal who has been serving for 32 years as an Assistant Professor of Physics at BAF Shaheen College Dhaka. He expects that this website will meet up all the needs of Bengali version learners /students. He has requested concerned students and teachers to spread this website home and abroad.