HSC Biology 2nd Paper Note 10th Chapter Defence System of Human Body
HSC Biology 2nd Paper Note 10th Chapter Defence System of Human Body. The first parts of the general defense system are real barriers that stop the pathogens from entering the body. These barriers try to stop all pathogens, therefore, they are considered non-specific defenses. The physical barriers of our general defense system consisting of:
The Skin- This was discussed in the excretion web page. It is a physical barrier that stops pathogens.
Clotting- If the skin is broken the blood clot stops entry of pathogens.
Sebaceous and sweat glands- These produce chemicals that kill bacteria.
Lysozyme- This is in the saliva and the tear glands. It kills bacteria.
Mucous membranes- These secrete mucus which lines many body parts. The mucous traps pathogens and prevents them from entering the body.
Nasal hairs- These remove suspended micro-organisms from the air.
Cilia- These small hairs beat to force mucus to the pharynx for swallowing to the stomach. Coughing helps in this process.
HSC Biology 2nd Paper Note 10th Chapter Defence System of Human Body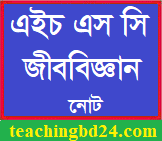 The immune system protects the body against disease or other potentially damaging foreign bodies. When functioning properly, the immune system identifies and attacks a variety of threats, including viruses, bacteria, and parasites, while distinguishing them from the body's own healthy tissue. The Lymphatic system consists of bone marrow, spleen, thymus and lymph nodes. Bone marrow produces white blood cells or leukocytes. The spleen is the largest lymphatic organ in the body contains white blood cells that fight infection or disease. The thymus is where T-cells mature. T-cells help destroy infected or cancerous cells.
teachingbd24.com is such a website where you will get all kinds of necessary information regarding educational notes, suggestions and question patterns of schools, colleges, and madrasas. Particularly, you will get here special notes of physics that will be immensely useful to both students and teachers. The builder of the website is Mr. Md. Shah Jamal who has been serving for 32 years as an Assistant Professor of Physics at BAF Shaheen College Dhaka. He expects that this website will meet up all the needs of Bengali version learners /students. He has requested concerned students and teachers to spread this website home and abroad.