HSC Biology 1st Paper Note 5th Chapter Algae and Fungi. Algae is an informal term for a large, diverse group of photosynthetic organisms that are not necessarily closely related, and is thus polyphyletic. Included organisms range from unicellular microalgae genera, such as Chlorella and the diatoms, to multicellular forms, such as the giant kelp, a large brown alga which may grow up to 50 m in length. Most are aquatic and autotrophic and lack many of the distinct cell and tissue types, such as stomata, xylem, and phloem, which are found in land plants. The largest and most complex marine algae are called seaweeds, while the most complex freshwater forms are the Charophyta, a division of green algae which includes, for example, Spirogyra and the stoneworts.
HSC Biology 1st Paper Note 5th Chapter Algae and Fungi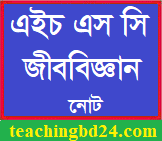 A fungus (plural: fungi) is any member of the group of eukaryotic organisms that includes microorganisms such as yeasts and molds, as well as the more familiar mushrooms. These organisms are classified as a kingdom, Fungi, which is separate from the other eukaryotic life kingdoms of plants and animals. A characteristic that places fungi in a different kingdom from plants, bacteria, and some protists is chitin in their cell walls. Similar to animals, fungi are heterotrophs; they acquire their food by absorbing dissolved molecules, typically by secreting digestive enzymes into their environment. Fungi do not photosynthesize. Growth is their means of mobility, except for spores (a few of which are flagellated), which may travel through the air or water.
teachingbd24.com is such a website where you would get all kinds of necessary information regarding educational notes, suggestions and questions' patterns of school, college, and madrasahs. Particularly you will get here special notes of physics that will be immensely useful to both students and teachers. The builder of the website is Mr. Md. Shah Jamal Who has been serving for 33 years as an Asst. Professor of BAF Shaheen College Dhaka. He expects that this website will meet up all the needs of Bengali version learners /students. He has requested both concerned students and teachers to spread this website home and abroad.