HSC Biology 1st Paper Note 10th Chapter Plant Reproduction
HSC Biology 1st Paper Note 10th Chapter Plant Reproduction. Plant reproduction is the production of new individuals or offspring in plants, which can be accomplished by sexual or asexual reproduction. Sexual reproduction produces offspring by the fusion of gametes, resulting in offspring genetically different from the parent or parents. Plant reproductive system, any of the systems, sexual or asexual, by which plants reproduce. In plants, as in animals, the end result of reproduction is the continuation of a given species, and the ability to reproduce is, therefore, rather conservative, or given to only moderate change, during evolution.
HSC Biology 1st Paper Note 10th Chapter Plant Reproduction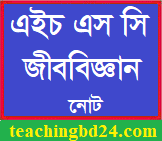 Seeds generated by apomixis are a means of asexual reproduction, involving the formation and dispersal of seeds that do not originate from the fertilization of the embryos. Hawkweed (Hieracium), dandelion (Taraxacum), some Citrus (Citrus) and Kentucky bluegrass (Poa pratensis) all use this form of asexual reproduction. Pseudogamy occurs in some plants that have apomictic seeds, where pollination is often needed to initiate embryo growth, though the pollen contributes no genetic material to the developing offspring. Other forms of apomixis occur in plants also, including the generation of a plantlet in replacement of a seed or the generation of bulbils instead of flowers, where new cloned individuals are produced. Asexual reproduction is a type of reproduction where the offspring comes from one parent only, thus, inheriting the characteristics of the parent.
teachingbd24.com is such a website where you would get all kinds of necessary information regarding educational notes, suggestions and questions' patterns of school, college, and madrasahs. Particularly you will get here special notes of physics that will be immensely useful to both students and teachers. The builder of the website is Mr. Md. Shah Jamal Who has been serving for 30 years as an Asst. Professor of BAF Shaheen College Dhaka. He expects that this website will meet up all the needs of Bengali version learners /students. He has requested both concerned students and teachers to spread this website home and abroad.