HSC Agricultural Studies 2nd Paper Suggestion and Question Patterns 2019. Agricultural science began with Gregor Mendel's genetic work, then in current relations might be better dated from the chemical fertilizer productions of plant physical sympathetic in 18th-century Germany. In the United States, a technical rebellion in agriculture began with the Hatch Act of 1887, which used the term "agricultural science". The Hatch Act was driven by farmers' interest in knowing the voters of early reproduction fertilizer. The Smith-Hughes Act of 1917 shifted agricultural education back to its occupational roots, but the scientific basis had been built. After 1906, civic expenses on the agricultural investigation in the US exceeded private expenses for the next 44 years.
HSC Agricultural Studies 2nd Paper Suggestion and Question Patterns 2019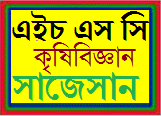 All Board HSC Agricultural Studies 2nd Paper Model Question
Model Question No. 7
Model Question No. 8
teachingbd24.com is such a website where you will get all kinds of necessary information regarding educational notes, suggestions and question patterns of schools, colleges, and madrasas. Particularly, you will get here special notes of physics that will be immensely useful to both students and teachers. The builder of the website is Mr. Md. Shah Jamal who has been serving for 32 years as an Assistant Professor of Physics at BAF Shaheen College Dhaka. He expects that this website will meet up all the needs of Bengali version learners /students. He has requested concerned students and teachers to spread this website home and abroad.
এখানে ক্লিক করে ২০১৯ সালের অন্যান্য বিষয়ের সাজেসান ও প্রশ্নের ধরন জেনে নিন