Civics and Good Citizenship Suggestion and Question Patterns of SSC Examination 2016. Civics is the study of the theoretical and practical aspects of citizenship, its rights and duties; the duties of citizens to each other as members of a political body and to the government.  It includes the study of civil law and civil code, and the study of government with attention to the role of citizens ― as opposed to external factors ― in the operation and oversight of government.
Civics and Good Citizenship Suggestion and Question Patterns 2016-8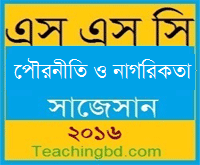 Model Question No. 8
 

teachingbd24.com is such a website where you would get all kinds of necessary information regarding educational notes, suggestions and questions' patterns of school, college and madrasahs. Particularly you will get here special notes of physics that will be immensely useful to both students and teachers. The builder of the website is Mr. Md. Shah Jamal Who has been serving for 30 years as an Asst. Professor of BAF Shaheen College. He expects that this website will meet up all the needs of Bengali version learners /students. He has requested both concerned students and teachers to spread this website home and abroad.