Biman Bangladesh Airlines Job Circular 2017
Biman Bangladesh Airlines Job Circular 2017. Biman Bangladesh Airlines Job Circular 2017 has been published. Biman Bangladesh Airlines job position in Engineering department. This Job circular deadline is 21st September 2017. Biman Bangladesh Airlines is the national flag carrier airline of Bangladesh. Its main hub is at Shahjalal International Airport in Dhaka and it also operates flights from its secondary hubs Shah Amanat International Airport in Chittagong and Osmani International Airport in Sylhet. The airline provides international passenger and cargo services to Asia and Europe, as well as major domestic routes inside Bangladesh. It has air service agreements with 42 countries and currently flies to 16 different countries.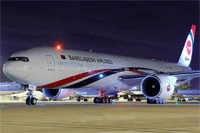 Job Title: Commercial Assistant
Published Date: September 01, 2017
 Application Deadline: September 21, 2017
Biman Bangladesh Airlines Job Circular 2017
 Download Job Application Form 2017
The airline was wholly owned and managed by the government of Bangladesh until 31st August 2007, when it was transformed into the country's largest public limited company by the Caretaker Government of Bangladesh. The airline's headquarters Balaka Bhaban is located in Kurmitola, Dhaka. Annual Hajj flights, transporting non-resident Bangladeshi workers and migrants, and the activities of its subsidiaries, form an integral part of the carrier's business. Biman Bangladesh Airlines Job Circular 2017.
Desirable Criteria:
Type Rating
Multi Engine Jet Experience
Glass Cockpit Background
ATP Licence
University Degree
Selection Procedure:
Initial screening based on experience and eligibility criteria.
Psychometric Test
Written and Oral Examination
Attractive Salary Package.
 Selected Candidates will have to undergo training for a specified period at Bangladesh Airlines Training Centre and any other institute approved by Biman.
After successful training, the candidates will be confirmed as First Officer in B 737-800 aircraft.
Selected candidates shall have to execute an agreement and a surety bond separately on the non-judicial stamp of Taka 300/- each.
No TA/DA will be admissible for an interview, test etc.
In the decades following its founding, the airline expanded its fleet and destinations. At its peak, Biman has operated flights to 29 international destinations, as far away as New York City to the west and Tokyo to the east. Since becoming a public limited company in 2007, the airline has begun to modernize its fleet. The airline has made a deal with Boeing for ten new aircraft, along with options for ten more. Biman Bangladesh Airlines Job Circular 2017.