Application for the post of a Teacher
Application for the post of a Teacher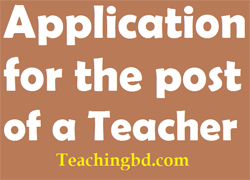 10 January 2015
The Principal
Kid's Tutorial
12/A Motijheel, Dhaka
Subject: Application for the post of a Teacher.
Dear Sir,
In response to your advertisement published in 'The Daily Star' on 5 January 2015, I have come to know that you are looking for a candidate for the post of a Teacher. Having all the required qualifications I would like to regard myself as a candidate for the post. My complete CV with other necessary docomeents is enclosed here.
Therefore, I request you to consider my application and oblige me thereby.
Sincerely yours,
Jamanna Yasmin.
Curriculum Vitae
Name                   : Jamanna Yasmin
Father's Name   : Asheque Mahmud
Mother's Name : Tasmin Ferdous
Date of Birth     : 20 December 1997
Nationality        : Bangladeshi (By birth)
Religion             : Islam (Sunni)
Educational Qualification
Exam
Grade
Group
Year of

Pass

Board

HSC
GPA 5
Science
2014
Dhaka
SSC
GPA 5
Science
2012
Dhaka
Experience : Has been working as a teacher at Hardco Tutorial for last two years.
Language Proficiency : Fluent in spoken and written English.
Extra Qualifications : Computer literacy in MS Word, Excel, etc.
Training : Attended Teacher Training Programme.
Interests : Recitation, singing, reading books.
Permanent Address : P.O. & Upazilla: Chandina, District: Comilla
Present, Mailing Address
and Contact Phone no              : 357, South Bashaboo, Dhaka-1202,
Phone : 7350273
References :                                     (i) Abdus Salam Khan, Headmaster,                                                                  Bashaboo High School, Bashaboo
(ii) A S Zaman, Sr ASSt Secretary,                                                                             Ministry of Finance, Bangladesh                                                                                 Secretariat, Dhaka.
Signature
  Jamanna
(Jamanna Yasmin)

teachingbd24.com is such a website where you would get all kinds of necessary information regarding educational notes, suggestions and questions' patterns of school, college and madrasahs. Particularly you will get here special notes of physics that will be immensely useful to both students and teachers. The builder of the website is Mr. Md. Shah Jamal Who has been serving for 30 years as an Asst. Professor of BAF Shaheen College. He expects that this website will meet up all the needs of Bengali version learners /students. He has requested concerned both students and teachers to spread this website home and abroad.