Application for the post of a Sales Girl
Application for the post of a Sales Girl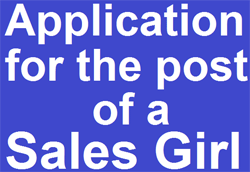 10 April 2015
The Manager
X Fashion House.
16/A Banani, Dhaka
Subject: Application for the post of a Sales Girl.
Dear Sir,
In response to your advertisement published in 'The Daily Star' on 5 April 2015, I have come to know that you are looking for a candidate for the post of a Sales Girl. Having all the required qualifications I like to regard myself as a candidate for the post. My complete CV with other necessary docomeents is enclosed here.
Therefore, I request you to consider my application and oblige me thereby.
Sincerely yours,
Sumi Rahman
Curriculum Vitae
of
Syeda Sumi Rahman
4/A Darus Salam Road
                                                      Mirpur, Dhaka.                        Photograph
Μobile: +8801ΧΧΧΧΧΧ
E-mail: sumi_dhkG gmail.com
Career Objective
To work as a sales girl in a reputed Fashion House and acquire experience and skills.
Personal Details
Father's Name                        : Syed Musharaf Rahman
Mother's Name                       : Momtaj Begum
Date of Birth                           : 2nd March 2001
Gender                                       : Female.
Marital Status                         : Single.
Nationality                               : Bangladeshi.
Religion                                   : Islam.
Permanent Address           : 4/A Darus Salam Road, Mirpur, Dhaka.
Educational Qualification
Institution                                : Munirunninsa School and College
Class                                            : 9 (Nine)
Section                                       : B
Shift                                            : Noon
Roll                                             : 12
Work Experience
Worked as a Sales Girl at Dhaka International Trade Fair2014 for Pioneer Electronic Groups
Language Proficiency
Fluent in speaking and writing English & Bengali, familiar with Hindi and experienced in conducting oral and written presentations in English.
References
Shamsul Alam
CEO
Globe Securities Ltd
33/A Moghbazar, Dhaka
CeΙΙ Ρhone: 017ΧΧΧΧΧΧΧΧ
Nasir Molla
Senior Officer
Custom Section
BTRA, Dhaka
Cell Phone : 0 192XXXXXXX
 Sumí Rahman  
(Sumi Rahman)

teachingbd24.com is such a website where you would get all kinds of necessary information regarding educational notes, suggestions and questions' patterns of school, college and madrasahs. Particularly you will get here special notes of physics that will be immensely useful to both students and teachers. The builder of the website is Mr. Md. Shah Jamal Who has been serving for 30 years as an Asst. Professor of BAF Shaheen College. He expects that this website will meet up all the needs of Bengali version learners /students. He has requested concerned both students and teachers to spread this website home and abroad.