Admission Corner | teachingbd24.com
Admission Corner. Here you will find all of the admission related information. Such as college admissions, university admissions, school admissions, etc.. Universities in Bangladesh represent about 75% of the academic bodies in Bangladesh out of which a total of about 104 institutions represent the conventional higher education institutions categorized by management and financial structure, these include 31 public universities, 51 private universities [Source: M/O. Education], 2 international universities, 31 specialized colleges, and 2 special universities. There are specialized universities in both categories offering courses primarily in technological studies, medical studies, business studies, and Islamic studies. Universities of Bangladesh produce almost 450,000 skilled graduates annually. Undergraduate education of various duration (three to four years) is offered to students at the public universities, degree and honors colleges and technical colleges.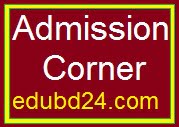 Admission Corner | teachingbd24.com
Admission:
Dhaka University Honours 1st year admission Notice and Result 2015
All College EIIN NO. Dhaka Mohanogori
How to Submit HSC Online Admission Form 2019
HSC Online Admission 2019 Bangladesh
Universities Admission Information Bangladesh
Click Here to get Engineering Admission Test Question with Solve
Click Here to get Important Admission Information of various universities
College Admission:
Click Here to HSC (College) Admission
Board Wise EIIN No. Bangladesh
EIIN Number of all colleges in Bangladesh
EIIN of All college in Dhaka board
School, College Website Link of Bangladesh
 School Admission:
Rajuk Uttara Model College Online Admission Test 2014
Selling of admission form for Dhaka city govt schools starts
Cadet College Admission 2014 Online Apply
In admission for the undergraduate classes in the Public universities, students interested to get admitted need to follow the admission process of each university separately. However, some of the common rules include the collection of admission forms at the cost of certain fees, submission of the form in the appropriate office, collection of the admit card, appearance in the admission test and get admitted if selected. Usually, the admission notices are published in the national dailies as well as respective websites.
teachingbd24.com is such a website where you would get all kinds of necessary information regarding educational notes, suggestions and questions' patterns of school, college, and madrasahs. Particularly you will get here special notes of physics that will be immensely useful to both students and teachers. The builder of the website is Mr. Md. Shah Jamal Who has been serving for 30 years as an Asst. Professor of BAF Shaheen College. He expects that this website will meet up all the needs of Bengali version learners /students. He has requested both concerned students and teachers to spread this web site home and abroad.